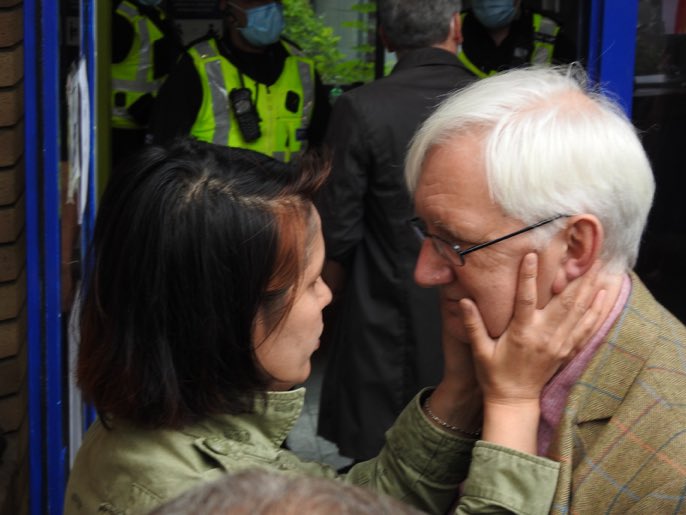 This has been a bad week for Scotland's democracy. Though I am about to discuss the unjust imprisonment of Craig Murray, I am actually referring to the silence of the SNP in the face of oppression and the party's supine acceptance of the Queen's sustained intervention in Scotland's governance.
I shall begin with the obvious in case anybody missed it. In Scotland we jail journalists just as they do in Russia or Hong Kong and other authoritarian states. In Scotland a monarch reigns supreme. Our effort to be seen as a better place is lost.
Scotland's First Minister, Nicola Sturgeon, tasked by the electorate to protect Scotland, has presided over an almighty disintegration of a once unified mass movement resisting the assaults of Westminsters' colonial aggression. She has nothing to be proud about.
The incalculable damage of public trust in our government and in our law system, together with the hunting of the Right Honorable Alex Salmond MP, happened under her leadership. Indeed, there is plenty of evidence strewn around like cow pats in a once pleasant green field that Nicola Sturgeon encouraged those calamities, her political skills violently at odds with her rhetoric.
Lady Dorrian
Comments claiming the judge in Murray's trial is a pawn of the state, or a handmaiden of the First Minister is paranoia run riot. I know Lady Dorrian and she will not be happy to be so charged. Not one bit. She is nobody's fool. She is not to be manipulated. But she's as human as the rest of us, and her concern for rape victims led her to dish out a punitive sentence on Craig Murray making him a martyr. Bad move, judge. A fine would have been enough.
She based her view on a keen reading of Scottish law rather than the baying howls of House Jocks and London Hooray Henrys seeking revenge on a former diplomat they had already smeared as a perverted sex fiend. There's that classic smear again. But they failed to silence Murray. If at first you don't succeed…..
Separating newspaper journalists from people such as myself was Lady Dorrian's second error. I am a published author, two more books in the offing, screenwriter and member of the Writer's Guild, who had automotive franchised columns in the US until I returned to Scotland, and a regular column in the Scotsman on the film industry. Now, by dint of the Scottish courts, I am termed not on the same level as, say, a hack in the Daily Record, or indeed, a guy selling newspapers from a stand on a windy street corner.
Whoops, I misspoke!
Lady Dorrian has, unwittingly, assisted the British neoliberal state to show what they will do to errant independent voices who publish dissent. The sentence meted out to Murray has the police able to act as a political force rounding up dissenters for trial and imprisonment. I am sure they do not like the position in which they are placed. Nor does she understand that the last people who will challenge the unlawful acts of a Scotland agitating for its liberty are state paid journalists wedded in salary, career prospects and belief, to a brutal Union.
She does not see the world has changed. People are jaundiced by what they read in newspapers written by timid hacks. They look for truth on the Internet. They use newspapers to keep the damp out when sleeping in the street. The curious follow those who have direct experience of what they talk of and argue for and against, people they judge have integrity and honesty and nothing to gain from lying.
Denounce, defame, malign and then murder
An England that executed Sir William Wallace, and Mary Queen of Scots – the ultimate form of censorship – is unlikely to allow similar challenges to its power in a modern world. The British state has, after all, kept whistle blower Julian Assange in jail without trial. (It annoys the hell out of government officials to see Craig Murray an Assange defendant.) Like Salmond, Assange was accused of rape, a tool of the power elite, a charge now dropped. Scotland's judicial system disallowed Murray a trial by jury. I am pretty sure a jury of Murray's peers would have found him guilty of nothing more than over-lengthy sentimental prose and clunky jokes.
I have not the space here to devote to the state execution of lawyer and SNP senior politician Willie McRae to prove our justice system conspicuously failed to investigate and solve. Someone did not like McRae saying England's "nuclear waste should be stored where Guy Fawkes put his gunpowder". Someone lost a lot of money and power when by court edict McRae defeated a Westminster proposal to dump radio active waste in Scotland's hills. People who think the British state looks upon full democracy for Scotland with benificence are asking for their career, home and pet dog taken from them without a penny in reparation.
Walk like Wark
I think back to the travesty of a documentary that was the work of Kirsty Wark in which she added a piece of the 'jigsaw' that could have led to viewers identifying one of Salmond's false accusers. Wark's entire reputation rests upon an old BBC interview with the despised Margaret Thatcher, a young Wark supposedly giving the then far-right harridan a 'hard time'. Afterwards Thatcher showed no sign of tottering from her perch, and went on to knock the hell out of Scotland's heavy industries and trade unions.
Much later, Wark gave Alex Salmond a 'hard time' when, as leader of the SNP, he took them into government. Wark later apologised for insulting him, when in fact she had insulted the entire Scottish electorate that had vote overwhelmingly for the SNP. Kirsty Wark is an accredited freelance journalist.
If Wark includes a piece of the jigsaw in her contrived documenary it does not count as identification in the eyes of Lady Dorrian's court. If Murray or another independent journalist offers a different piece of the jigsaw, it is a heinous offence. And so justice is undermined.
The judgment allows the power elite to do as they please to oppress and silence persistent journalists. This is the same catstrophic errors as the SNP endorsing a smear of a supporter made by a political opponent. The gates are open. It is open shooting season.
Those who work for a newspaper, who do as they are told, are of no concern. They are safe followers of the status quo. The National Union of Journalists (NUJ) stays silent, neutered by Thatcher and Murdoch years ago. Murray is excluded from NUJ membership, just as he was rejected as an MSP candidate by the nascent authoritarianism of the SNP. There are echoes of the cliché heard on every trailer for a television detective series: "He's a loose cannon, Jack!"
The UK's Supreme Court, itself a usurper of Scotland's system of law, endorses Lady Dorrian's judgment by refusing to hear Murray's appeal. The Supreme Court has offered its blessing to the fascist doctrine of Them and Us. Once more, the values and agenda of the British state triumphs over the rights of individuals.
This Land is One's to do as One pleases
As for the monarchy fiddling with Scotland's laws, what is there to be said about the myth that the Royal family do not dabble in politics? Millions believed it, millions still do, as people did when Elizabeth signed the death warrant for Mary's execution.
That an unelected head of state has the power to legislate in their personal interests, with no transparency or accountability, is presposterous in the modern age, yet our elected MSPs encourage it. So much for the SNP protecting Scotland's rights. They neglect their sworn duty to block exploitation, bring in radical laws on land ownership, and show openness in who lobbies them, and for what reason. The tragedy is, just as we are given a fundamental reason for Scotland to become a republic the SNP is in disarray, weak and subservient. For Nicola Sturgeon's administration, going backwards is the unwritten strategy.
In summary
I hope Craig Murray sees only a short spell in prison and is released soon to continue his work. Meanwhile, the public can write to their MP and MSP protesting at his incarceration, and the awful state of Scottish journalism.
We are well on out way to seeing responsible free expression criminalised. But remember this, though Scotland lost its innocence when Willie McRae was murdered, everyone bar a few modest folk ostrasized and smeared are still here. They have doubled their efforts to be heard, shout louder than ever, and will see Scotland a new nation state, their opponents defeated.
The British state and its apparartus is not an abstraction. It exists and it is malignant. We must not allow the British state to dictate the course of Scotland's freedoms for the next 100 years! Our objective is to conquer liberty and independence, to create a people's power, to construct a new society without exploitation for the benefit of all those who feel themselves to be Scots.
**************************************************************
NOTES
Craig John Murray (1958) is a British author, human rights campaigner, journalist, and former diplomat for the UK Foreign and Commonwealth Office. Between 2002 and 2004, he was the British ambassador to Uzbekistan during which time he exposed the violations of human rights in Uzbekistan by the Karimov administration.
Leeona June Dorrian (1957) Lady Dorrian is the Lord Justice Clerk, the second most senior judicial post in Scotland. An advocate since 1981, she has been a judge since 2002. After three years as a temporary judge, she became a Judge of the Supreme Courts of Scotland in 2005. She heads the SNP committee discussing ways of holding rape cases without a jury.
Willie McRae (1923-1985) was a Scottish lawyer, orator, naval officer, politician and anti-nuclear campaigner. In the Second World War he served in the British Army and then the Royal Indian Navy. He supported the Indian independence movement and for much of his life was active in the Scottish National Party.
Nicola Ferguson Sturgeon (1970) is a Scottish politician serving as First Minister of Scotland and Leader of the Scottish National Party since 2014. Her career began as a divorce solicitor. She is the first woman to hold either position and was given the role by her mentor and then First Minister, Alex Salmond.