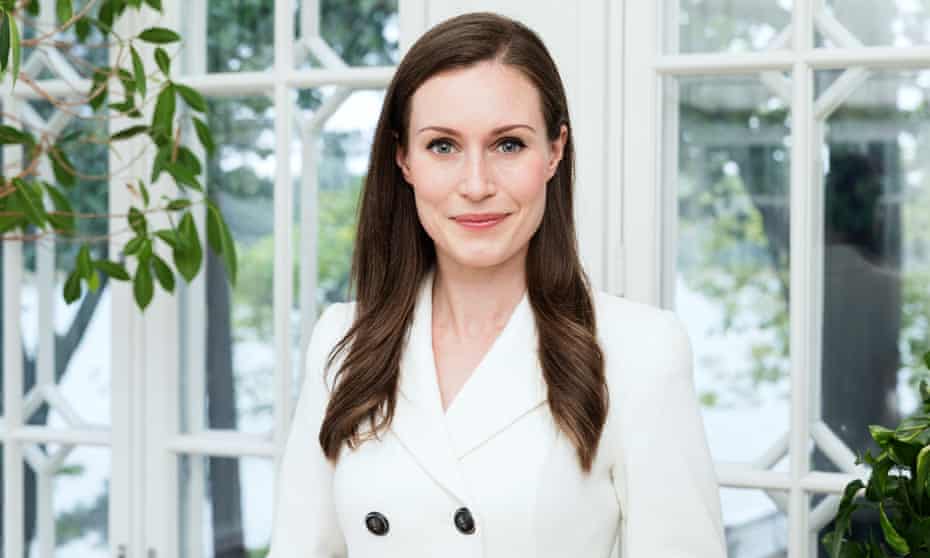 Finland is constantly cited as the happiest nation on the planet, and certainly my visit to that lake-strewn forest of a country – one of my daughters had a Finnish boyfriend for years – can attest to a certain air of contentment, an attitude of nothing phases, everything is solveable. Scots, inculcated for centuries by their Anglophile politicians to feel inadequate, are divided not by Yes or No, but by how capable they are to govern their own country.
Like all societies Finland has problems, only in Finland's case the government of the day, headed by Prime Minister Sanna Marin, has a policy of tackling societies ills such as poverty and homelessness, rather than removing funding from a crisis to teach people to fix themselves without government support. The self-serving greedy elitism of Boris Johnson's Tories, 'levelling up', is treated with derision in Finland.
Finland has its spread of political ideologies, same as any European nation, from far left to far-right, and Marin heads a coalition group. Finnish people come together to support their nation. They have no wish to see it governed by Russia, Norway or Sweden, their neighbour nations. (Russian architecture can be seen everywhere from the days of the Russian Empire that ruled Finland as a Grand Duchy, from 1809 until 1917.)
Coincidentally, all the political parties are led by women, and many ministers of state are female. We tried gaving female party leaders in Scotland but the experiment failed, the quality of intellect and state craft rock bottom, courage of conviction wafer thin.
Taking office at age 34, head of the centre-left Social Democratic Party (SDP), she is the youngest person to hold the position in Finnish history. Her parents split up when she was very young; the family faced financial problems and, according to records, Marin's father, Lauri Marin, struggled with alcoholism. After her biological parents separated, Marin was brought up by her mother and her mother's female partner. Consequently, Marin is sympathetic to 'rainbow families', as she describes same sex marriages. That aside, she does not keep her sexual orientation hidden. In a thank you to the Finnish people who had congratulated her on her marriage, she said, "I am happy and grateful to be able to share my life with the man I love. We have seen and experienced a lot together, shared joys and sorrows, and we have supported each other in the depths and in the storm. We lived together in our youth, grown up and aged to our beloved daughter."
She worked in a bakery and as a cashier while studying, graduating with bachelor's and master's degrees in Administrative Science from the University of Tampere. Her political initiation began aged 20 when she joined SDP Youth. She is married to Markus Räikkönen, an entrepreneur. They have one child, Emma. Marin is a confirmed vegetarian. She admits that she never expected to get into politics: "When I was in high school, I felt that people who do politics are quite different and come from different horizons than mine. At that time, I didn't think it was possible to get involved myself." Earlier this year, Marin, an MP since 2015, announced her intention to give fathers the same amount of paid parental leave as mothers, to promote equality and increase birth rates.
Prime Minister Marin is not known to favour interviews, preferring instead to concentrate on the tasks before her rather than court popularity in a stream of photo opportunities and press briefings. But by dedicating herself to political solutions that the electorate support, she has garnered a lot of respect and … popularity, an asset when your party does not hold the majority of seats in the parliament. This interview by Alexandra Topping is a fair portrait of a woman whose humanity guides her politics.
DEFENDING HUMAN RIGHTS
Equality, a well-funded education system and a strong welfare state are the secret to the success of the world's happiest nation, according to Finland's prime minister.
In a rare interview with foreign media, Sanna Marin – who briefly became the youngest world leader when she became prime minister of the Nordic nation in 2019 at the age of 34 – said Finland was committed to preserving its generous welfare state in an "environmentally sustainable way", and saw the development and export of green technology as the key to its future prosperity.
Marin said the country "wanted to do better when it comes to equality", after being named the happiest country in the world in April by the UN Sustainable Development Solutions Network, which asks people to rate their contentment on a 10-point scale.
A low death rate from Covid
Marin rode a wave of popularity during the pandemic for her assured management of the crisis; in the nation of 5.5 million people, only about 1,300 have died from the virus. But cracks within her five-party coalition – all headed by female leaders – are beginning to show.
A poll last week by Finland's national public broadcasting company YLE showed the opposition liberal-conservative National Coalition party as the most popular party followed by the right-wing populist Finns party, with Marin's Social Democrats in third place.
In recent weeks, she has faced down a speculative vote of no-confidence from opposition parties seeking to close the 800-mile border to asylum seekers, after Belarus launched what the EU condemned as a "hybrid attack" by sending asylum seekers to the borders of Poland, Latvia and Lithuania. But Marin said there was no problem at the Finnish border.
"We have to say this is not acceptable. We're condemning the actions of Belarus. But at the same time we have to make sure that people's human rights are respected in this situation," she said.
Asked if she thought future governments would continue to push for equality, despite the disparity between her liberal government and more right-wing opposition parties, she said: "I think so. Because it's work that's ongoing. We have always worked for equality in Finland, and I think it's also important in the future, and not only the equality of men and women, or the genders, but also the equality of minority groups in society.
"We have to make sure that structures don't act as barriers to people. So there are many things to do."
A recent legislative flurry saw education made compulsory until the age of 18. A new parental leave system that is expected to come into effect next August will increase the time allowed to be used by fathers from 54 days to a minimum of 97 days.
"The idea would be that mothers and fathers would spend the same amount of time at home with their small children, so that both can have the same opportunities in their career, but also so that we can [narrow] the gender pay gap," said Marin.
Ending homelessness
Marin also reiterated her commitment to ending homelessness in Finland, where the Housing First approach has helped reduce street homelessness, and aims to eliminate it by 2027.
It's a model that has attracted attention from UK politicians. But funding for three pilots in this country based on Housing First launched in 2018 is set to run out next year, and MPs have warned that they now face a "cliff-edge of support".
Marin said long-term investment in Housing First was important progress, but that there was still work to do. "There are still people without homes, and we still have problems, especially in the bigger cities. But we have also made progress," she said. "The Housing First model is a very important one, but of course we also need solutions from the healthcare system, from the social security system, and employment. We have to make sure that we're treating people as whole individuals."
Finland has pledged to become carbon neutral by 2035, 15 years ahead of the EU target. Marin said that while climate change was the biggest challenge facing the country, it could also be "a big opportunity" for Finnish companies.
"We want to make the transformation in a way that actually benefits ordinary people," she said. "Because if we don't get people on board, then there's nothing we can do."
A more equal society
A commitment to a fairer and more equal society would continue the work of "many generations" of politicians, added Marin, who is herself from a low-income background. On equality, there are no private schools in Finland. Parents are, however, free to fund their local school.
"The biggest issue, of course, is that they have built a welfare society in Finland: that people like me, coming from quite a modest background, have had the opportunities in life to go to study, to go to university, to have a chance in life to make their own future," she said.
"So I think all the decisions, the hard work that people before me have done to build our society is important – the real work to be done now is to make sure that we continue to promote equal opportunities."
************************************************************