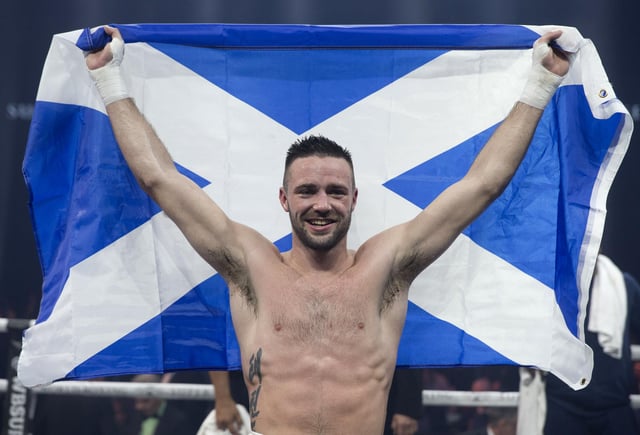 Eighteen wins, fifteen by knockouts, and no losses. No matter what your personal feelings are of the age-old sport of two guys (or women) bashing each other about the head and body, the historic win by Scotland's Josh Taylor, undisputed super-lightweight champion by beating Jose Ramirez, is a milestone in Scottish sporting history, yet it has been almost completely ignored by our television companies and caring press. The few British commentators who have noted his win describe Taylor as 'British'. As readers know, had he lost, the tradition is to describe the sports person as 'Scots'.
Taylor's background too is all but suppressed. Perhaps the Prestonpans-born boxer has remained too Scottish, too attached to his roots for our lovers of fitba and rugby to take much notice. On the other hand, Taylor's aversion to a nightclub bouncer he thought rude and 'gay' (he apologised) might cause our sensitive sporty types a moment's distaste. Our broadcasters could have made good copy about Taylor losing all of his title belts days after winning them. (The Mail Online did, kindly admitting he is Scots.) Taylor blames United Airlines for leaving the priceless belts 'somewhere in Dallas' after he landed back in Edinburgh, which the Mail called 'the UK'.
I bet there are least three small-time independent – apologies for using that word again – production companies penning a documentary on Taylor to submit to the BBC, if so, good luck. They might as well propose an hour on Vlad the Impaler's day in Dunoon.
Taylor is the undisputed world light-welterweight champion, having held the WBA, IBF, and Ring magazine titles since 2019 and the WBC and WBO titles after defeating José Ramírez last month (May 2021) a quite superb accomplishment without parallel. Here, Kenny MacAskill MP, ruminates and fulminates about Taylor ignored.
BBC Fails Again
by Kenny MacAskill MP
I've always been more a football or rugby man, than boxing, but I've respected boxing's fitness levels and the discipline's incredible, and I'm proud to call Alex Arthur a friend.
Sporting success has been limited in Scotland over recent years despite recent valiant efforts by the national football and rugby teams, and some individual successes. So you'd think a Scottish boxer achieving international success would be something for the nation to focus on.
Josh Taylor's victory last week was eerily absent from the supposed national broadcaster. Neither live viewing was offered nor even much of a round-up on UK news channels.
I was fortunate to meet Josh Taylor after he'd won his way into the Commonwealth Games final en route to his Gold Medal, and have followed his career ever since. His victory was the first time a UK boxer had won all four available belts, so no mean achievement. Of course, his success was reported widely but why was there no live broadcast on BBC Scotland or even recognition on UK news?
I'm old enough to remember the great Ken Buchanan and recall watching Jim Watt's struggles in pubs when younger. So why wasn't our supposed national broadcaster following his story and showing it live? I know sport's expensive and bidding can be pricey. But this was a major event and we're entitled to see it.
It matters to those that follow the sport and the feel-good factor for a small nation's significant. It's inconceivable that RTE wouldn't have shown it had it been an Irish boxer and other small nations would be likewise. They seek to maximise the impact and reflect the feel-good factor. It matters yet was absent.
Once again the channel purporting to be the national broadcaster, let the nation down. Showing the Scottish Cup Final is simply not enough. It's not just the actions of Martin Bashir that's putting them in the frame but their failings in Scotland.
Broadcasting should be devolved as current protocols are clearly failing – shape up or ship out. All of us, not just Josh Taylor, are missing out.
Kenny MacAskill is the Alba Party MP for East Lothian
*******************************************************