An 'incomplete narrative of events". That is the key phrase in the extract above. James Hamilton's report makes clear that the First Minister, Nicola Sturgeon, did mislead Parliament. Whether deliberate, forgetfulness or an error, she misled Parliament. The SNP is a party without honour. But it can be put right if the masses want it.
Hamilton accepts the First Minister's version of events; she did not mean to do it. Why? Because she says so. This is a bizarre ajudication. One misleads or one does not. If an inquisitor says she did not plan to do it, it is not his role to suggest she is free from rebuke or sanction. That is a matter for the Scottish Parliament.
If Parliament considers the full evidence – from both Inquiries – and decides her behaviour was not forgetfulness at all, or a diary muddle, they can apply the severest of sanctions.
If Parliament argues she did not mean to do it, they can record a rebuke, no matter what action the opposition want to see passed by MSPs to rid themselves of an irksome opponent.
As it is, we have the Fabiani Inquiry also stating the First Minister did break the ministerial code, and Hamilton softening that to yes, but is was not malicious. In addition, the Fabiani committee state that Nicola Sturgeon misled them in some of the evidence she gave to them under oath. The perfect storm. Two Inquiries reaching the same conclusion, yet apparently at loggerheads as to the honesty of the the key protagonist.
The bigger question is this, what will the damaging fiasco of past months do to SNP support at the next election in May? Trust has been broken in the eyes of many supporters.
We have a legacy of crass ineptitude and political folly: the catastrophy caused soley by the SNP hierarchy, the unedfying smear statements made by SNP MPs and MSPs about their own colleagues, peers ostrasised, strong, articulate independent voices exiled and humiliated, millions of taxpayer money squandered in unnecessary court cases, women dragooned into perjuring themselves, SNP and Crown Office skulduggery withholding vital evidence, civil servants as trustworthy as the Kray Twins, plans to jail an innocent man, falsehoods scattered like marbles. This litany makes a great plot for a film on the abuse of power.
The reality of 'moving on' is brutal. A landslide victory for the SNP means a referendum of any form blocked by Boris Johnson and his eighty majority at Westminster. If frustrated, the SNP promise to take the issue to the UK Supreme Court, a path the SNP said was too hazardous only weeks ago. That will be many months away, and as we know, a mere week is a long time in politics. Who saw a pandemic arriving to distrupt society and life?
If a low ballot for the SNP, the party of independence that shelved independence these last four years, has no mandate to butter a scone, let alone hold an advisory plebiscite. I and others suggested consistently the election be made a plebiscite, a solid solution, one backed by the people of Scotland in a mass verdict, a proposal duly dismissed or ignored by the SNP. Instead, the SNP plan to shift a referendum into the far distance where it will be vulnerable to attack by the British state.
The outlook is bleak. The SNP remains a party systematically corrupted in its processes and trust. It will be up to the mass movement for self-governance, not the SNP, to fix things, to kill the virus in double quick time.
Some people choose to make a rational choice – vote for the SNP to give it a landslide majority, or put another way, vote for the lesser of two evils. But they usually add, lets leave the wrong doing and piss-poor policy Bills until after independence. This acknowledges corruption exists to be cast out. Leaving dishonesty where it lies only gives it licence to multiply and grow.
Lesser evils is not the end of things. It is the beginning from where you endeavour to get a fractured party back on the straight and narrow having thrown off the malodorous stench of duplicity and self-preservation. You do not hold your nose to vote. You use your vote to prevent the worst, you deal with the fundamental root of your party's malaise. You begin the clean out immediately. This is the moment to remind politicians forcefully they represent us, they are charged with accomplishing things in our name, they do not control us.
Taking everything into account, including close study these the last years, with the exception of giving strong performances at Hoilyrood's First Minister's Question Time, I have witnessed a First Minister well out of her depth in the matter of achieving this nation's liberty. This author's view is that independence held in the cupped hands of Nicola Sturgeon is nothing but water. I profoundly wish I am wrong. There are many who believe I am.
Nearing the end of my life, I take some solace knowing shallow personalities and fame pass; a mass movement intent on a nation's liberty may pause for a while, be derailed for a time, but momentum is always inexorably forward, pushed onward by people who seek natural justice.
Revolutions are unstoppable.
Hamilton's Full Report
For those who wish to read all 81 pages and his letter, or only skim it to read the main sections, here is Hamilton's assessment – click on the long link below:
https://www.gov.scot/binaries/content/documents/govscot/publications/independent-report/2021/03/independent-report-by-james-hamilton-on-the-first-ministers-self-referral-under-the-scottish-ministerial-code/documents/the-independent-report-by-james-hamilton-on-the-first-ministers-self-referral-under-the-scottish-ministerial-code/the-independent-report-by-james-hamilton-on-the-first-ministers-self-referral-under-the-scottish-ministerial-code/govscot%3Adocument/Referral%2B-%2Breport%2B-%2B%2Bredacted%2Bversion.pdf?forceDownload=true
NOTE:
The bitter taste politicians. Below, an example of a member of the SNP resigning his membership, his reaction typical of many another, disilluisioned and disenfranchised.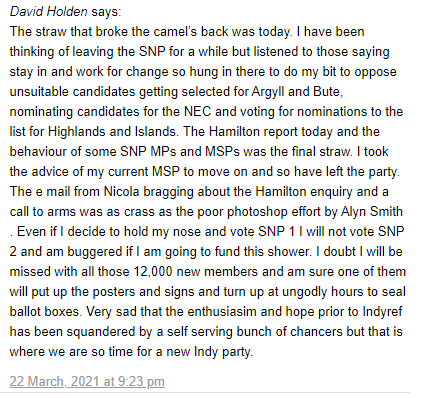 ********************************************************