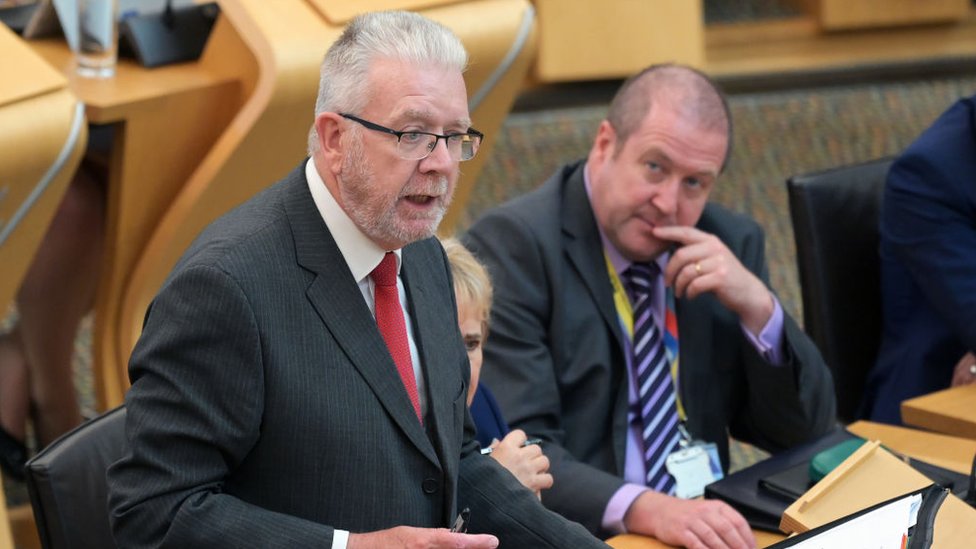 New Year's Day began with a tweet from Nicola Sturgeon. For a long time I have felt the SNP should be called the General National Party because they rarely speak about independence in specific terms. On this occasion, her remark reminds us all that Ireland is an independent country with twenty-seven others minding its back, while we are not independent and have England at our back. Currently, England has decided it needs no country as a friend and ally, just a few to subjugate.
Unless in skilled hands, brevity on Twitter is easily misinterpreted, or facile, or a joke misfired. But here Sturgeon's comments are revealing, a new year's call to battle that says more than it means to. The first sentence reminds us our enemy is our colonial neighbour, the second admits we have not been in the driving seat controlling the narrative, our neighbour has.
"As independent Ireland takes up her seat on the UN Security Council today, independent Scotland is taken out of the EU against our will. Time to put ourselves in the driving seat of our own future, Scotland – indyref2." Nicola Sturgeon
Some people will argue the day is late. Some bang tables arguing she is getting behind the wheel of a G-Wiz micro car, others still retort she is in a powerful locomotive. Quite frankly, I have grown used to the SNP exerting their best skill with all the strength of an Olympic hammer thrower – tossing their strongest supporters under a bus.
Nicola Sturgeon's words are a fraction of what has been missing from the daily narrative, required if we are to defeat the muggers of democracy. I hope she was energised by the strong, valedictory speech on the sins of Brexit and the loss of freedoms, made by Michael Russell, MSP, aimed at the terminally smug sitting behind their school desks in our Holyrood Parliament. Tory, Labour and Lib-Dem, are our Sunday chapel politicians, soft-soap salemen the rest of the week. Some must regret the loss of EU membership.
Ruminating on the inadequacies of SNP, I was sent a letter printed in Scotland's one newspaper dedicated to autonomy, the National. The National has at least four front covers in four years monopolised by a headline suggesting 'This is the Year'. As experts tell us, be sceptical when reading newspapers and check the date on the masthead.
Reading the letter, this is what I want the SNP to say, the rest of us applauding, shouting 'yes!', and "Hallelujah!'. But instead SNP tell us, there's another Munro to climb carrying a full emotional back-pack, slip-sliding up a scree, and they have no idea what we will see if we reach the top. The letter's author has had enough. Here's the letter:
"Ne'erday is my UDI.
By personal resolution is I am leaving the British state, which has deprived me of my European citizenship and treats me as a subject. Instead, I am reasserting my European and worldwide identity as a citizen of the ancient, unbroken nation of Scotland. I cannot change the world alone, but I can start by changing myself.
I cannot any longer be part of Little England. I cannot be compliant with the jingoism of England's governing class, who want everyone else to be poorer so that they can be sovereign. I dissent from their undemocratic and unaccountable governance, their serial incompetence, corruption, and nauseating presumption. I am determined to live by principles of equity, justice, dignity, respect and compassion.
I also renounce the House of Windsor, and all the detritus of monarchy. Whatever the merits of Queen Elizabeth, "royal prerogative" has become a cover for arbitrary rule. "God Save the Queen" no more, even out of politeness.
I renounce the British state's obscene and soon-to-be-illegal possession of nuclear weaponry. I protest the stockpiling of warheads and decaying radioactive submarines near the homes of two-and-a-half million Scots on the Clyde.
I refuse to be part of Britain's global weapons workshop, supplying dictators and fuelling murderous, ethnic conflicts. I call out Britain's media establishment, including the BBC, which insistently demands to know why Scotland should be independent, without ever considering why not. I challenge the subservience of many in Scottish society, who cling to their status quo privilege and refuse to speak truth to power.
I resist Britain's sell-out of public services for private profit, and its determination to undermine the United Kingdom's parliaments. I support every possible collective and individual action to sustain planet Earth as a home for humankind, and the source of diverse life – air, soil and seas.
Some of this is unsurprising: my adult life has been in the midst of Scottish culture and society. I know how much and how often Scotland has undercut its own potential. But the next years will be harder than what has gone before. The British state will not relinquish its hold on Scotland without conflict and repression.
I am prepared to resist by all non-violent means, including civil disobedience. If necessary I would accept loss of liberty as the price for genuine freedom. I shall give unstinting voice to the diversity of Scotland though my storytelling art, without censorship, or deference to institutions that disguise bias as impartiality. I will not be cowed by weasel words – "divisive", "separatist", or "nationalist". Scotland's cause is inclusive and outward-facing.
I regret the present assault on Scotland's democracy. Yet I am relieved that pretences have been dropped; that open resistance has arrived. There is joy in joining the dance of defiance. For me, independence is beginning, and I can go forward in the good company of people who delight in freedom and humanity."
Donald Smith, 31 December, 2020.
For those SNP politicians fed Alphabet soup as children, the polemic above is a great example of what to do with lots of letters – rearrange them into something meaningful.
2021 marks Scotland's last great massed charge at the colonial barracades with Nicola Sturgeon as First Minister, if she is still around to do it. Personally, I would follow a St Bernard if it knew the way to the promised land. If we fail, the future is horribly bleak. The ghosts of our ancestors are watching to see what we do.
***********************************************************************************