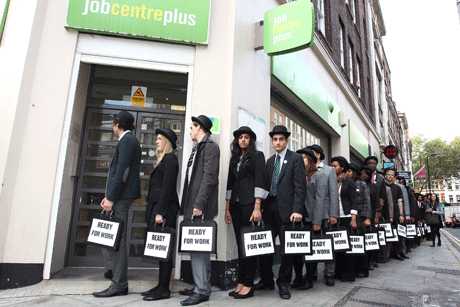 This article was promoted by the press as written by Scotland's former First Minister, Alex Salmond, naturally giving rise to speculation in some quarters it represents a sign of his return to front bench politics. In reality, it was written in MSP Alex Neil, in the main, with some input from Alex Salmond. Hope Salmond gets back into the thick of it is wishful thinking while he fights to regain his reputation from an obdurate Scottish administration, a few of whom are malevolently intent on destroying it. Nevertheless, the proposals in the article represent what has been missing, gravely so, from the SNP's output these last years, constructive plans to regenerate this nation's worth, rather than chase home-bred squirrels as a permanent hobby. The article is reproduced in full.
Action Plan to Tackle the Covid Unemployment Crisis in Scotland
"In the Chinese language, the word "crisis" is composed of two characters, one representing danger and the other, opportunity." John F Kennedy was fond of using this piece of wisdom on the campaign trail. In strict linguistic terms, he was mistaken. However, in political terms he was correct. That is the position now in Scotland.
There now seems little doubt that a tsunami of job cuts and business closures are about to hit Scotland and the rest of the UK due to the coronavirus crisis. Some forecasters estimate that the level of unemployment could double in Scotland over the next few months, resulting in many thousands of people losing their jobs. This level of unemployment is unacceptable. The human and financial costs of high unemployment are avoidable if we take action now.
Scotland needs an urgent Action Plan to tackle the looming unemployment crisis. The following list of measures, while not exhaustive, highlights some key sectors where urgent action would create many thousands of much needed jobs. Implemented they would turn crisis into opportunity.
Minimising Economic Damage
The immediate priority is to save as many existing businesses and jobs as possible until the pandemic is under control. That will be when there is large-scale, safe and effective vaccination of the vast majority of the population coupled with the availability of new, safe and effective anti-viral drugs. Until that can be done, our strategy should be to learn the lessons from numerous countries in Asia, which have successfully brought the virus under control by means which are far less damaging to their economies than wide-scale lockdowns and business closures, and has also resulted in fewer deaths from covid-19.
Such a strategy includes:
• Mass testing with reduced turnaround times for results.
• Tackling the problem of "super-spreaders", which are reportedly responsible for up to 80% of all infections.
• Identifying those who are most likely to require hospitalisation if they catch covid so they can receive early intervention to stop them doing so.
• Expanding the programme for distributing Vitamin D supplements to targeted groups who are the most vulnerable to catching the virus.
These measures should help reduce the spread of the disease, reduce the number of people requiring hospitalisation and thereby help reduce the number of people dying from covid-19.
They should also help save jobs and businesses.
Housing
There is a dire shortage of housing in Scotland. We need to build many more houses for both rent and sale. The current number of houses built by councils and housing associations for social rent is the highest it has been for decades, but it is still not enough to satisfy the level of demand.
Similarly, the level of new houses built for sale is nowhere near matching the level of demand. This is resulting in house price inflation, which in turn is making it much more difficult for first time buyers to get on the housing ladder.
Boosting the level of housebuilding in Scotland
To be able to do that we need to tackle the endemic shortage of skills which has for too long acted as a barrier to growth in the construction sector. We also need to tackle the issue of land availability for housing. The shortage of land is pushing up the price of development land and thereby pushing up the cost of construction as well as encouraging land banking. As with the aforementioned skill shortages, these constraints are having a detrimental impact on the level of housebuilding in Scotland.
A range of policies is urgently required to address these issues, including reforms to compulsory purchase to make it easier to acquire development land for housing, a crackdown on landowner profiteering from low value land re-designated for housing development, improvements to the planning system, et cetera.
There is a need for a National Housebuilding Company (NHC) to be set up to help provide the additional capacity needed to boost the level of housebuilding in Scotland. The core remit for the NHC would be to reach a target of building an additional 10,000 new houses a year in Scotland within the next five years. These houses would be on top of the Scottish Government's existing housebuilding programme. Most of the new NHC houses would be for rent although some would be for sale. The surplus receipts from the houses for sale would help subsidise the capital costs of the houses for rent.
The NHC would have three other specific remits:
1. To ensure all its new houses are energy efficient whilst providing the highest possible levels of cost-effective heating for their occupants.
2. To maximise the number of apprentices it recruits and trains.
3. To use its clout to help develop and expand the indigenous construction industry supply chain within Scotland.
The NHC would be set up at arms-length from the Scottish Government so as not to add to the latter's borrowing limits as set by the UK Government. The NHC's funding would come from a combination of equity and borrowing.
A housing renovation and repair programme is also required, to improve the quality of existing houses. Too many homes in Scotland are not up to standard. They need re-roofed, re-wired, proper insulation, upgraded heating systems, etc… These problems affect all different types of housing tenures, including the social housing sector, privately rented houses and privately owned houses. This grant would provide a government subsidy, tailored to the needs of each type of tenure, to incentivise owners and occupants to undertake the necessary work.
Derelict properties
There should also be a special subsidy to convert empty and derelict properties into houses, and for the construction of new houses on gap sites in our towns and villages.
There are an estimated 20,000 derelict properties in Scottish rural communities. Many of these should be converted into new homes to help meet the massive unmet demand for housing in rural areas, helping to address the problem of depopulation. Helping young people to self-build new homes would encourage them to stay and work in their local areas.
All the above proposals for new housing investment would create many thousands of new jobs and do so relatively quickly, whilst making significant improvements to the availability and quality of houses throughout Scotland.
Shovel-ready Projects
One of the quickest ways for government to create new jobs is to bring forward shovel-ready projects. Such projects should target priority services such as health, education, social housing, the environment, road and rail, broadband, water and sewage, anti-flooding measures, et cetera.
The following types of projects should be included:
• New build and refurbishment projects.
• Repair and maintenance projects.
• Projects in the areas of high unemployment and deprivation.
The Scottish Government and its agencies should draw up a hit list of projects for immediate implementation, giving priority to those with the greatest jobs potential.
Crash Training Programme to fill Scotland's Skills Gaps
Prior to covid there were huge skill gaps in Scotland holding back the growth of Scotland's economy. Examples include a shortage of about 12,000 skilled construction workers, 5,000 long-distance lorry drivers, an annual deficit of up to 7,000 IT graduates, shortages of staff to fill the jobs available in the National Health Service, skill shortages in the teaching profession, etc.
These are all areas of the economy where there is no shortage of jobs, just the people to fill them. This is both a crisis and an opportunity. The challenge is to solve these skill shortages. The opportunity is to do so with people who need help to get on the training and qualifications ladder so they can fill one of the available jobs.
There are two proposals to address this problem: The first is to expand existing training programmes to help meet the demand in key sectors, such as construction and IT. Secondly, introduce a Training and Employment Grants Scheme (TEGS) and make it available to any employer who is willing to participate.
Based on a similar scheme successfully run many years ago by Strathclyde Regional Council, TEGS would provide a wages and training subsidy to those businesses which recruited people who are unemployed, under notice of redundancy and young people seeking a job. Disadvantaged people, such as those with a disability, would receive a higher level of subsidy. The subsidy would last long enough to allow the employee to gain the necessary qualifications and experience to find a job. It would be paid in return for the business meeting agreed conditions, such as paying the real Living Wage, ensuring the employee's training leads to an appropriate qualification/credentials, and there being a realistic chance of the trainee being offered a permanent job on completion, although not necessarily in the host company.
A quantum leap in training provision would provide a real spur to business growth in Scotland and help many thousands of people get back into work as well as provide a much-needed boost for participating businesses.
Business Expansion and Investment
Direct assistance to businesses has to play a significant part in any economic recovery programme. The most urgent task is to help those businesses been badly affected by the coronavirus crisis with their immediate cash-flow problems. The best way to do that is by offering a long-term loan at a zero interest rate and with an initial repayment holiday, long enough to allow the business time to get back on its feet. The Scottish Government should set up such a loan scheme.
A Research and Development Fund should also be set up to fund growth opportunities in the industries of tomorrow. Such a fund would use public money to leverage external funding to set up industrial research and development projects, so that on average for every pound it invested, others would invest at least another two pounds of non-governmental funds. Although the fund should be flexible and not limited to particular sectors, it should pro-actively pursue opportunities in sectors with proven growth potential in Scotland, such as space, renewable energy, cybercrime technologies, games technologies and animal and human life sciences.
These types of activities have huge job potential. For example, the life sciences sector has an "multiplier" similar to that for construction. The quality of the jobs related to scientific research and development are also very high, usually paying above average wages. It also acts as a magnet for new, high quality business investment in Scotland.
Energy Sector – A Second Chance
As a major energy producer of both carbon and renewable resources, Scotland is in a unique position to manage a successful industrial transition from carbon to post carbon technologies. Despite the establishment of a successful and internationally competitive supply chain base, the resource benefit of half a century of hydrocarbon development has disappeared into the maw of the London Treasury.
Major industrial opportunities remain in oil and gas not just in decommissioning but with the deployment of carbon capture technology, which will extend substantially the life of North Sea oil and gas fields.
However the major shift of the last five years has been the movement of the cost curve of renewables (principally solar power and wind technology onshore and offshore) from a position of requiring infant industry support to one where there is a substantial endowment effect to be secured in the public interest.
Last year the UK Government successfully awarded contracts for offshore and island wind power for some 40GW of electricity, around 10 per cent of total U.K. production. These contracts were met at some 25 per cent below the "reference price" i.e. the expected market price of electricity. On current expectations, these projects alone will generate a £600 million a year contribution towards consumer bills by 2027.
Scotland dominates U.K. onshore wind production and is now starting to develop an offshore resource, which has an estimated 25 per cent of European potential. Therefore, onshore and offshore renewables in Scotland are now in the position of oil and gas circa 1970 with major opportunities ahead but requiring the political imperative to secure these resource benefits for the nation. To that end, a Scottish National Renewable Corporation (SNRC) should be set up.
It should have, by legislative and license entitlement, a 5 per cent project shareholding in all future licensed energy projects of 20 MW and above. The influence and revenues accruing from this position will be used for three purposes:
First, the securing of an industrial benefit from the renewable investment with the direction of orders for a Scottish supply chain to service these major investments. For far too long Scottish resources have been used to power the industries of our major competitors. The current crisis over Bifab illustrates the policy failure of not being in a position to secure the market place. The time is long past when it is acceptable to see major industrial benefits bypass Scotland. Instead, Scotland's resources should be used for the benefit of the Scottish people.
Second, 50 per cent of the dividends from capital acquired and invested by SNRC will fund investment in universities and colleges energy research, support for emerging companies and technologies in wave and tidal power and the projection of Scottish companies into the international marketplace. Scotland has a national interest in leading the development of smart, digital and flexible electricity networks, which will open the marketplace for Scottish generated power.
Third, the establishment of a "Scotland Pension Fund", which will use the capital base gains of the SNRC and the remaining 50 per cent of dividends to make strategic international investments. From small beginnings, this will accumulate into a generational fund for the Scottish people benefiting for the first time directly from the enormity of our natural resources onshore and offshore. The extraordinary endowment of natural resources has given Scotland a further opportunity to benefit from our position as a renewable powerhouse of the European continent. This will be our second chance in energy. We may not get a third.
Conclusion
The above proposals would transform Scotland's prospects for post-coronavirus economic recovery and avoid mass unemployment. The Barnett consequential for Scotland arising from the UK Government spending review, coupled with the Scottish Government's own resources, should be prioritised for this purpose.
JFK was mistaken in his knowledge of Mandarin but correct in his analysis of the human condition. Innovation in politics and economics is often driven by necessity and creates change and opportunity. The way out of crisis is to first generate and then seize these opportunities. This paper is our contribution to that Scottish effort.
Alex Neil MSP and Rt Hon Alex Salmond
***********************************************************************************